TV appeal over 2009 kidnapping in Drinkstone, Suffolk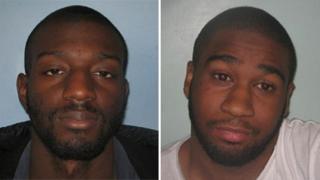 Two men wanted by police in connection with a kidnapping in Suffolk almost five years ago have been featured on BBC's Crimewatch.
Daniel Patterson, 27, and Zebadiah Rose, 25, are suspected of being involved in an incident in Drinkstone in September 2009.
A man in his 30s, was threatened at a property by four men, alleged to have been armed with a shotgun.
He was forced to get into a car and driven to London.
Two jailed
Two men were jailed at Ipswich Crown Court in July 2010 for their part in the kidnapping.
Farad Shabazz, 34, of Charteris Road, Kilburn, London, was sentenced to eight years for kidnap, blackmail, false imprisonment and possession of a firearm with intent and Nathan Carty, 24, of Dalyell Road, London, was sentenced to six years for kidnap, blackmail and false imprisonment.
Temporary Det Insp Trevor Prior from the Joint Norfolk and Suffolk Major Investigation Team, said: "We have carried out many lines of enquiry since the kidnapping incident four years ago and since the conviction of the two men in 2010.
"Our enquiries have led us to suspect that Daniel Patterson and Zebadiah Rose (also known as Jason Walker) had involvement with this violent kidnapping offence and we would ask anyone who knows the whereabouts of these two to contact us.
"We hope that by featuring the two men as wanted on BBC Crimewatch someone will come forward with information which will help us locate them."
Anyone with information is asked to call Suffolk Police.