Dead Rat Orchestra's meat cleavers recreate vigilantes' music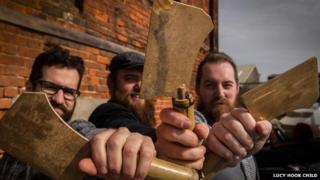 A musician is using specially crafted meat cleavers to reproduce music - a tradition that is up to 300 years old and once made by groups of vigilantes.
Nathaniel Mann, 31, is overseeing the production of 12 bronze tuned cleavers, to be used in a show called Rough Music.
The term was used in Suffolk to describe the process of "assaulting people with sound", by making a racket and singing about their alleged offences.
Vigilantes would gather outside the home of someone perceived to have done wrong, and "give them the rough music" - sometimes banishing them from their village.
Acoustic qualities
"It used to be used as a form of social control in the UK," Mr Mann said.
His band, Dead Rat Orchestra, will be using the meat cleavers along with instruments including a salt box, a metal bucket and a barrel scraper to give new life to the centuries-old songs.
A preview performance is taking place in Ipswich later before it goes to Oxford on 29 March, as part of the Audiograft Festival.
Mr Mann, who is from Shotley in Suffolk, said he had been using his granddad's old meat cleaver to make music for the past couple of years.
He sits with a wooden block on his lap and uses the cleaver and a wooden "beater" to produce the music.
After a chance encounter with a "secretive swordsmith", the pair dreamt up the idea of producing the range of bronze cleavers, with the metal chosen for its "really good acoustic qualities".
The subject matter of the show has partly been inspired by tales relayed by Mr Mann's grandmother, who lived in Edwardstone, near Bury St Edmunds.
'Satirical music'
"If anyone was out of line, if anyone was having an affair, any men were particularly under the thumb or people weren't paying their debts, they'd surround your house in the middle of the night," he said.
"They'd be there in the pitch black, with pots and pans, salt boxes, meat cleavers, anything that would make a racket and assault you with sound.
"If they were repeat offenders, there were cases where they would chase you out of the village with sound, and banish you from the village.
"Every community would have done it in their own way. In Suffolk it was called rough music, whereas in the west country it was called the skimmington."
Mr Mann began the project looking to create a new instrument, but his research soon found that meat cleavers had been used as instruments centuries ago, and that they went hand-in-hand with rough music.
"I found a 17th Century composer who made a satirical piece of music, and he made tuned bronze meat cleavers for the performance," he said.
"So, not only has my project got all these other implications, it's also 300 years out of date."