Lowestoft Hospital: NHS shake-up means medical and social care at home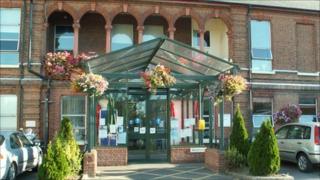 The 25-bed unit at Lowestoft Hospital is to close this month and specialists are to treat patients in their own homes in a shake-up of NHS services.
The hospital, due to shut in September, will now see its north wing refurbished at a cost of £50,000 to provide a temporary base for the mobile staff.
Beds are to be funded in care homes for short-term stays, HealthEast said.
Lowestoft Coalition Against the Cuts, fighting to retain the hospital, said it was surprised by the early closure.
Chris Brooks, from the coalition, said: "This is all a bit sudden and a surprise. We were all led to believe the hospital would close in six months' time.
"We don't believe that outreach nursing teams can treat patients more effectively in their own homes than at the hospital."
Richard Chilvers, also from the coalition, claimed hospital staff did not know it was happening just one week before the announcement.
"They were kept in the dark," he said.
HealthEast, who are driving the changes, said medical and social care services would operate from a new £6m building at Kirkley Mill in Lowestoft from April.
"Patients in Lowestoft will have modern health care, where possible, at home or from modern local buildings," Andy Evans, chief executive of HealthEast said.
"By making sure people can access high-quality care in their own homes, we will help them make a faster recovery and retain their independence for longer."
Individual care plans
He said that during a three month public consultation, 67.8% of the 625 people who expressed a preference voted in favour of the services move to Kirkley Rise in Lowestoft.
This proposal meant the closure of Lowestoft Hospital which has 25 in-patient beds and 63 staff.
Patients who need to be under the care of a consultant within an acute hospital setting will be admitted to the James Paget University Hospital.
The new "out of hospital" team will be made up of nursing sisters, occupational therapists, physiotherapists, rehabilitation support workers and social workers.
HealthEast said the team would be able to work outside the traditional boundaries of clinical teams and will operate round-the-clock.
Urgent patients will be assessed within two hours of referral and where possible cared for in their own homes.
The team will work alongside a patient's own GP to provide intensive, short-term care in line with a patient's individual care plan.