Bungay road safety study call despite referendum defeat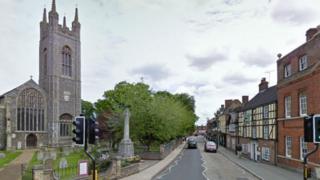 Campaigners who opposed a Suffolk town centre road scheme but lost a local referendum, say an independent safety audit is still needed.
Work has already begun to create a £440,000 one-way system and widened footpaths in Bungay.
The Bungay Road Action Group pushed for the local referendum, but the majority of voters backed the scheme.
Suffolk County Council said its scheme would transform the town and it was happy with the design and safety.
The referendum, or parish poll, attracted 552 voters out of about 4,500 people eligible in the town.
Asked if there should have been more consultation about the lack of kerbs and the closure of St Mary's Street, 189 people voted 'Yes' and 363 said 'No'.
'Poll not binding'
On whether town councillors who backed the scheme should resign, 149 agreed but 400 felt they should not.
Bungay Road Action Group claimed the "shared space" design, involving an open thoroughfare for those on foot and in vehicles, put pedestrians at risk, while the council said most pavements were still separated from the road by kerbs.
The group's Mike Testro said: "Obviously we thought there was much more support out there.
"[But the county council] have to do a stage 3 road safety audit and with a road of this importance it should be done by an independent auditor, rather than in-house at Suffolk County Council, as they did with stage 2."
Mayor Judy Cloke, from Bungay Town Council, said: "The roadworks were never going to be cancelled and the result of the poll wasn't binding.
"Councillors who voted in favour of the scheme, including myself, feel it is a well-designed, safe scheme which will undoubtedly improve the look of the town centre."
The roadworks are due to be completed by mid-April.