Spring Road in Ipswich to reopen on Saturday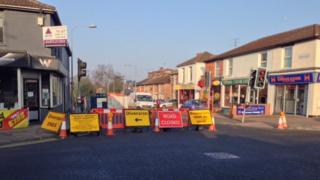 Work on a busy road expected to be closed for up to two weeks should be completed on Saturday, Suffolk County Council has said.
A section of Ipswich's Spring Road, between Cauldwell Hall Road and Grove Lane, has been closed since Tuesday due to subsidence.
Suffolk County Council thought it was due to a collapsed sewer, but tests have shown this was not the case.
A diversion is currently in place, via Cauldwell Hall Road and Foxhall Road.
John Jacobs, area highways manager, said the problem was caused by the "soft and sandy soil" beneath the road and work previously carried out to strengthen it.
"Those previous measures have failed and a small void had opened up, causing the carriageway to sink," he said.
"Based on current information, we would hope to completely reopen the road by Saturday lunchtime."