Southwold promenade barriers to prevent falls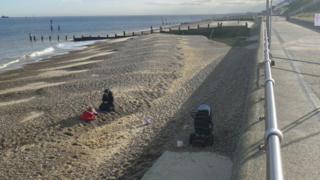 A temporary barrier is being erected along a Suffolk seafront promenade to prevent people falling on to exposed concrete.
The seafront path in Southwold has been closed since 21 February after erosion washed away the beach - exposing the concrete foundations of the promenade.
In some places the drop is up to 6ft (1.8m) and the barrier will run for 66 yds (60m) south of the pier.
Waveney District Council will begin work to restore the beach on Monday.