Missing Luke Durbin: Specialist dogs to join Ufford search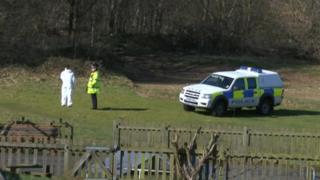 Specialist police dogs from London are being brought to woodland in Suffolk as part of the search for a missing man.
A human bone was found last month by officers looking for Luke Durbin of Hollesley who disappeared after a night out in Ipswich in 2006 when he was 19 years old.
The bone has been removed for testing and identification and the woods in Ufford remain sealed-off.
Up to five Metropolitan Police dogs will carry out searches on Friday.
Mr Durbin was known to frequent the woods and the bone was found during searches on 21 February.
It was confirmed as human this week and police set up cordons at the woodland, which is between the B1438 and the Parklands area.
Suffolk Police said the area was about the size of a football pitch and anomalies in the land surface had been identified by a forensic osteoarchaeologist.
The dogs were trained specifically to locate human remains - skills the Suffolk Police dog team does not have.
Det Supt John Brocklebank said: "There is still a huge amount of work to be done to identify who the bone belongs to.
"Historically, the site was either a World War One or Two barracks and also a landfill site so there may easily be an innocent explanation for the bone being in that location."