Trapped man rescued from slurry tank in Suffolk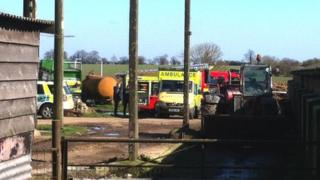 Firefighters have rescued a man in his 60s who was trapped in an underground slurry tank in Suffolk.
The East of England Ambulance Service and Suffolk Fire Service were called to a farm in Otley at about 10:30 GMT to reports of a man trapped by his feet under a block of concrete in a tank.
The man, trapped about 10 feet (3 metres) below ground, was brought to safety at about 13:00 GMT.
The tank contained about two feet of slurry.
'Lucky to escape'
The East of England Ambulance Service said the accident happened when two men stood on a concrete lid that covered the pit, which collapsed underneath them.
One man was uninjured and tried to help the second man who became trapped.
Emergency crews were on scene for more than three hours to safely rescue the man.
Daimon Wheddon, the paramedic officer at the scene, said: "The man is very lucky and has escaped with a cut to his head and suspected fractures in his feet.
"It was a difficult operation as we tried to move the concrete. The fear was that it would crumble and cause further injury."
The man was conveyed to Ipswich Hospital by land with an escort from the air ambulance.