Ofsted critical of Suffolk County Council's school policies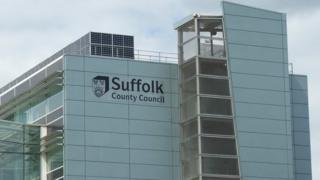 Suffolk children's "life chances are being damaged" according to a letter from Ofsted to the local education authority.
Suffolk County Council introduced its Raising The Bar programme after poor performance at primary and GCSE levels.
The school inspectors found Suffolk County Council's strategy to support schools was "weak" and it had been "tardy" in addressing poor leadership.
The council said it agreed with Ofsted's suggested improvements.
The letter followed an inspection in January of the council's strategy to improve overall school performance after league tables showed that, out of 150 education authorities, Suffolk was in the bottom 10 for GCSE results and third from bottom for primary school Key Stage 2 performance.
'Mediocre education'
Sean Harford, Ofsted's eastern regional director, said: "In 2012, the council launched its Raising The Bar policy, but there have been no significant improvements in pupils' attainment and there is still no clear strategy for how the local authority will make improvements.
"With that lack of strategic plan, too many schools have been left to languish and provide mediocre education.
"We don't think it's about lack of ambition or funding, the council can get on and do this as long as they intervene in the right way."
Ofsted said the council needed to finalise and implement its plans, improve communications with school leaders and resolve school leadership issues.
The council also needed to improve the ways it could check the quality of the work of its Learning & Improvement Service which is there to provide extra support to schools.
Councillor Lisa Chambers, portfolio holder for education at the Conservative-run local authority, said: "While I accept and welcome Ofsted's visit and report, there are lines I don't agree with.
"We've worked incredibly hard over the last few years to see improvements at Key Stage 2 and we're beginning to see the fruits of our labour.
"We are getting stuck in and we have very firm building blocks for where we are going and that will be done through the strategy we're introducing this month."