Missing Luke Durbin: Bone found during woodland search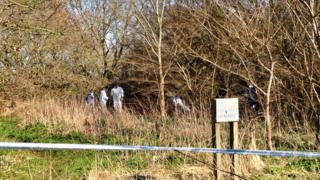 Human remains have been found by police investigating the disappearance of a Suffolk teenager nearly eight years ago.
Luke Durbin, of Hollesley, was aged 19 when he failed to return home after a night out in Ipswich in May 2006.
An area in the village of Ufford has now been cordoned off after the discovery in woodland last month.
Det Supt John Brocklebank said forensic anthropologists would now examine the small piece of bone.
They will seek to establish whether it belonged to a man or woman, the age of the person and potentially their identity. The process is expected to take several weeks.
"Officers have been searching the woodland area in Ufford as part of our continued inquiries into Luke's disappearance," Mr Brocklebank said.
"We knew Luke frequented this area prior to him going missing."
Mr Brocklebank said tests had confirmed the piece of bone was human.
"We have advised Luke's family of the discovery, but we are keen to stress that we cannot and will not speculate that this is Luke," he said.
"We need to pass the work to specialists in this field to establish the identity of the bone."
The last confirmed sighting of Mr Durbin was in Dog's Head Street in Ipswich at 04:00 BST on 12 May 2006.
Police said CCTV images of him at the railway station, a taxi rank and crossing the road towards the town's bus station suggested he was trying to get back to his home in Hollesley.
His mother, Nicki Durbin, has led a campaign to find her son.
Speaking in 2011, she said: "The thing with a family of a missing loved one is you are just in a constant state of grief.
"You can't go through the process of mourning your child.
"I would love it if Luke walked around the back of the house laughing. That would be the best outcome but I think the reality is that's not going to happen."
Two men, aged 26 and 41, were arrested earlier last year as part of the murder investigation, but later released.
More than 100 people have been interviewed by police investigating the case.