Pair jailed at Ipswich Crown Court over Foxhall Road rapes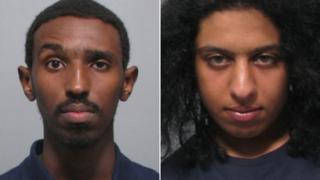 Two men have been jailed for holding a 16-year-old girl in captivity before raping her.
The victim was attacked at a property in Foxhall Road, Ipswich, last June.
Jama Abdullahi, 23, and Badrdyen Saeed, 20, both of London, were found guilty of rape and false imprisonment in January.
Both men have been jailed for eight years. A 17-year-old boy, found guilty of false imprisonment, was put on an 18-month rehabilitation order.
Ipswich Crown Court was told how the girl visited a flat in Foxhall Road on a Sunday afternoon to meet the boy, who cannot be named for legal reasons, and two men after exchanging text messages with them.
She was shown to a room by the 17 year old, who told her one or more of his friends wanted to have sex with her.
She said no but the boy left the room and locked the door behind him.
'Incredibly brave'
Saeed, of Camel Road in London, then entered the room and "orally raped" the girl. When he left he locked the door behind him.
Abdullahi, also of Camel Road, went into the room a short while later and also forced her to perform oral sex against her will before allowing her to leave the flat.
Det Con Annabel Hicks said: "Abdullahi, Saeed and the 17 year old had come to Ipswich from London and set up a drug den at the address in Foxhall Road.
"They preyed on their victim, luring her to the flat by sending her text messages.
"On the day in question she came to the flat and made it clear that she had no intention of having sex with anyone, but was held against her will and orally raped by the two men.
"The girl was incredibly brave to contact the police the same day and was able to identify the flat so we were able to make the arrests that evening."