Sudbury butcher's dead animal window display to return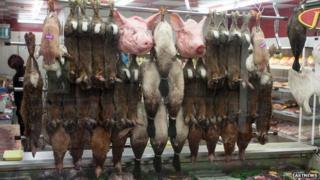 A butcher who stopped displays of dead animals in his Suffolk shop window due to complaints is to reinstate them.
JBS Family Butchers in Sudbury stopped showcasing the carcasses of seasonal produce after people threatened to boycott nearby shops.
But butcher John Sawyer, 53, said he had received "overwhelming" support in favour of displaying the produce and it would return at the weekend.
"It's easily avoided if you don't want to see it," he said.
The shop, in the Borehmagate shopping centre, had displayed the dead animals in its window for several years before two letters published in the Suffolk Free Press prompted their removal on Friday.
Initial criticism printed in the newspaper said the "disgusting" display of animals was disturbing to children, but the majority of comments since then have been in support of the butcher.
Mr Sawyer, who has worked as a butcher for more than 30 years, said: "I've had overwhelming public support to put the window display back, including calls from America and Germany.
"I take a lot of pride in the window because if it looks good it catches the eye."
The story has been widely reported and a thread on BBC Radio 2's Facebook page prompted more than 1,600 comments.
Mr Sawyer said people were about "300 to one" in favour of the display returning.
"For a vegetarian, my window would be their worst nightmare," he said. "But they don't have to come into my shop.
"Put a pig's head in the window and all of a sudden we've got nationwide uproar.
"It's no different to a fishmonger's having fish."
Mr Sawyer said it was too early to say what the reinstated display window would feature at the weekend.