Family bungalow in Capel St Mary destroyed by fire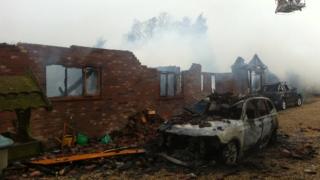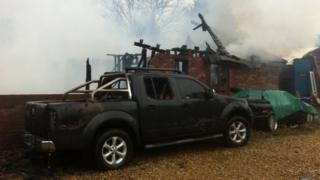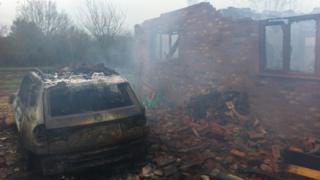 Three generations of a family have been left homeless after their bungalow was destroyed by fire.
The bungalow, which is in Pound Lane, Capel St Mary, caught fire at about 05:00 GMT.
All six residents escaped unhurt, but Suffolk Fire and Rescue said their home, along with all their possessions, were completely engulfed.
The cause of the fire is being investigated. Pound Lane has been closed to traffic.
Incident commander John Southgate said: "They are literally left standing up in what they own now.
"It's a really, really traumatic time for them. They're completely devastated."
Two vehicles were also written off by the fire, which was tackled with the help of water from a neighbour's swimming pool.