Butcher window display: Public to decide on dead animals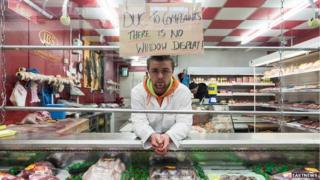 A butcher who stopped displaying dead animals in his window due to complaints they were upsetting children says the public can decide whether the displays should return.
JBS Family Butchers in Sudbury, Suffolk, stopped displaying the carcasses after people threatened to boycott nearby shops.
Some shoppers said the sight of the animals was "disgusting".
The business said it was now asking for people's thoughts on the matter.
Assistant manager Richard Nicholson, 25, said the shop, which is in the Borehamgate shopping centre, had displayed the animals in the window for "years".
The produce on display was changed daily and all of it was for sale, he said.
But two weeks ago a letter was published in the Suffolk Free Press from Daniel Cudmord, who said he bred rabbits but was shocked by the contents of the window display, which he said included "continental giant rabbits, pig heads and ducks".
"I do not know how it can get away with it and it must be upsetting for children who have animals," he said.
Last Thursday, a second letter was published from Ben Mowles saying the produce was a "needless display of multiple mutilated carcasses".
"I used to take my 12-year-old daughter to Marimba sweet shop but now we avoid the entire precinct as we'd rather not look at bloody severed pigs' heads when buying sweets," he said.
He added there was a "growing number of local residents boycotting all shops in the Borehamgate centre".
Mr Nicholson said it was the threat to other businesses which prompted him to withdraw the display on Friday.
"We pulled it out because we have to get on with the people in the precinct," he said.
Mr Nicholson said the display would be down for a few days while the shop, which employs three people, decided what to do next.
"We're leaving it down to the public", he said. "If they decide that a butcher should display their meat in the window then we'll put it back in.
"We never intended to offend anyone."