'Del Boy' sheepskin firm Nursey of Bungay has buyer interest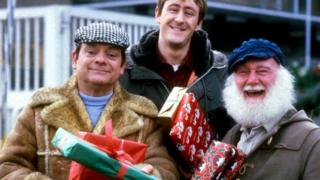 A troubled sheepskin factory, which clothed Del Boy in television's Only Fools & Horses, says it has had interest from "two or three" buyers.
Nursey of Bungay in Suffolk, which has been trading since 1846, will close on 19 March unless it is sold, said owner Tim Nursey.
The firm employed 85 staff in the mid-1980s, but now has nine employees and has not made a profit for five years.
It was hoped a buyer would keep the factory open and invest in marketing.
Mr Nursey, 65, is the fifth generation of his family to work at the company, and he started his training when he was 18 years old.
"We have tried everything, but bank costs are getting higher, supplies of raw materials from Spain and Portugal are getting more limited and it's been a very difficult decision to sell," he said.
"We invested online, but the website hasn't delivered the extra volume of sales we needed to keep us going.
"The buyers who have expressed an interest like the 'old English heritage' brand, so the name could survive and manufacturing could continue in Bungay with investment in the marketing and online side.
"However, my family's involvement would come to an end, which is very upsetting."
Mr Nursey said production would cease next month unless a buyer was found and it would then sell off stock as the firm was wound up.
The firm said it provided sheepskin coats for the Del Boy character in Only Fools & Horses and the actor who played him, David Jason, bought some for his personal use afterwards.
It also lists BBC football commentator John Motson and guitarist Eric Clapton as customers.