Easton Bavents cliff top house sold for undisclosed fee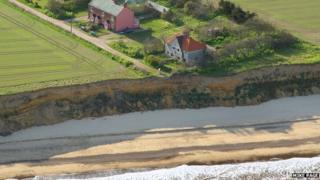 A house on the edge of an eroding cliff top in Suffolk has been sold for an undisclosed fee.
The house at Easton Bavents, near Southwold, is about 26ft (8m) from the cliff edge but had an asking price of above £25,000.
The buyer will have the opportunity to apply for planning permission for a new house in an area in which it would otherwise be "unlikely" to be approved.
The house was last sold in 2004 for £45,000.
Waveney District Council's Pathfinder scheme supports homeowners whose property is affected by coastal erosion.
Continuous erosion
Project officer David Savill said the buyer of the house in Easton Bavents would have an "opportunity" to build a similar sized house, within the Waveney area, where planning permission would usually be hard to obtain.
"What it doesn't do is allow them to ride coach and horses through other planning regulations," he said.
Andrew McTear, a partner at insolvency practitioners McTear, Williams and Wood, which sold the house, said this was what had appealed to the people bidding for the house.
"I think that's what the purchaser has bought," he said.
The land the house is on was estimated to have been about a mile (1.6km) from the coast in the 17th Century, but there has been continuous erosion since then.
"The big worry for me was there would be another big storm and the property would fall on to the beach," Mr McTear said.
"In those circumstances I would be in for a big clean up bill."