Worlingworth wall collapse: Man and firm fined over crush deaths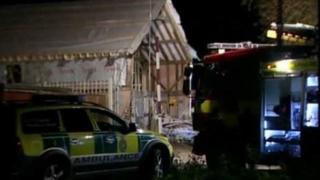 A building firm and an engineer have been fined thousands of pounds after two men died when a wall collapsed on them at a building site in Suffolk.
Matthew Skeet, 19, and Kevin Ruffles, 57, died at Worlingworth on 21 October 2010.
Elliston Steady & Hawes (Building), of Great Blakenham, was fined £45,000 and Barry Potts, 65, of Freston, fined £15,000 at Ipswich Crown Court.
Both the firm and Potts had previously admitted a health and safety breach.
The court heard the men were digging a trench on a farm at Worlingworth, near Eye, when a barn wall gave way.
Post-mortem examinations found both men died of multiple injuries after being buried under rubble.
'Grossly negligent'
The judge ruled the building company, which admitted failing to ensure the safety of a person, must pay the fine within six months and pay prosecution costs of £15,000.
Potts, who pleaded guilty to the same charge, was told he must pay his fine within a year or face 12 months in prison. He was also ordered to pay £5,000 in costs.
A £15 victim surcharge was also handed to both parties.
Det Ch Insp Andy Smith of Suffolk Police, said: "This was a tragic incident in which two men lost their lives.
"In the case of Potts it was confirmed that the evidence demonstrated his conduct fell far below that which could be expected of a competent engineer. He failed to inspect and test the foundations underpinning the wall and gave advice to Kevin Ruffles which was grossly negligent.
"Unfortunately, at the time this incident occurred, Elliston Steady and Hawes (Building) Limited were not managing the Malting's building project as they should have been.
"They missed an opportunity to challenge Potts' negligent advice, they failed to secure written method statements and did not appoint a temporary works co-ordinator."
In a statement, the building firm gave its "sincerest sympathy" to the victims' friends and families.