Suffolk County Council cuts £38m from its budget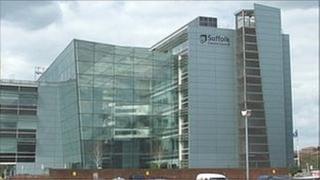 Budget cuts of £38.6m have been approved by Suffolk County Council.
The £472.2m budget includes a £10.2m cut in adult care.
Other savings include £1.5m from the children's centres budget but the council said a new waste incinerator was saving £8.2m in landfill costs.
It says a further £9m will be saved when a 10-year contract with services firm CSD ends in May. The authority has decided to freeze its share of the council tax.
The Labour group proposed reducing the cuts by £4.5m and taking money from the council's contingency reserve.
Landfill cost savings
The group said its budget removed the £2m cut in supporting people, which includes services aimed at helping the elderly, young families and people affected by domestic abuse.
But its proposal was rejected by the Conservative-controlled council.
A new waste incinerator at Great Blakenham means the council is saving £8.2m in landfill costs.
The adult care savings include a £6.4m cut in the care purchasing budget.
This could mean an increase in charges for some services and a greater use of telecare - offering remote care of elderly and physically less able people, who would be able to remain in their homes rather than go into care.
Colin Noble, the county council's cabinet member for finance, said: "Tough decisions have had to be made to address the speed at which funding has been withdrawn from the county council. Looking forward, further reductions will be coming our way.
"I'm certain that as long as the county council is open with the public about the challenges we're facing and works with its partners and staff to find ways of overcoming them, we will be able to manage these changes as effectively as possible."
Labour group Leader Sandy Martin said: "Prevention is always better than cure.
"Whether it is young people at danger of slipping into crime or unemployment, or elderly people at risk in their own homes or unable to leave hospital, many of the Conservative proposals will stop people from overcoming their difficulties, and actually cost the public purse more in the long run."