Copdock road rage: Man quizzed over incident in village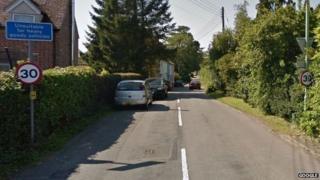 A man has been arrested over a road rage incident in Suffolk when a lorry driver was knocked unconscious when his head was slammed in a cab door.
A 40-year-old man from Ipswich has been questioned on suspicion of assault over the incident in Elm Lane, Copdock.
The 48-year-old trucker was treated for concussion in hospital after the attack at 10:15 GMT on 4 February.
The man arrested on Thursday was bailed to return to the Martlesham Police Investigation Centre on 14 March 2014.
The lorry driver said he had got out of his lorry cab to speak to a cyclist on a narrow lane in the village before he was abused and attacked.
He had stopped his lorry to allow a car to pass, the trucker said.