Ipswich man's London Eye flashmob proposal wins heart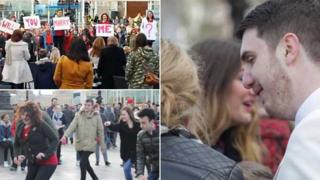 A couple from Suffolk got engaged at the London Eye after a man arranged for a 60-strong flashmob to surprise his girlfriend.
Alex Osborn, 26, from Copdock near Ipswich, recruited the volunteer dancers via social media.
Fiancee Rebecca Kingham, 22, said: "I didn't know it was for me at first and then they started pointing at me and Alex appeared in the middle of them."
The couple drank champagne on the Eye afterwards.
'In shock'
Ms Kingham said: "We were going on a trip to London with my sister and her husband and I was moaning while we were waiting to go on the wheel because it was really cold - then the flashmob appeared.
"I was in shock, but I said yes.
"It was incredible and I can't believe he organised it - he's amazing."
The London Flashmob were recruited online and they danced to a recording of Can't Take My Eyes Off You by Frankie Valli and the Four Seasons.
Mr Osborn, who is a trainee tattooist in Woodbridge, said: "I started organising it in August by putting out an appeal on Gumtree, and then a lady contacted me who organises flashmobs.
"I'm delighted at how smoothly it went and I was always confident she would say yes."
The couple, who already live together in Copdock near Ipswich, have not set a date for their wedding yet, but think it will probably be in 2015.