Bawdsey sea defences swept away near martello towers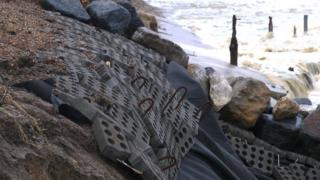 Sea defences in an area of Suffolk have been swept away exposing 600 acres of agricultural land to the risk of flooding, it has been claimed.
The Environment Agency said it had spent £7m over the past 10 years at Bawdsey on the low-lying beaches near the martello towers.
Work is now taking place to shore up the blocks which have been dislodged over the past week.
The agency said it would look at long-term solutions with local councils.
The stretch of coastline north of East Lane includes a mixture of low earthen cliffs which drop to sea level heading towards Shingle Street.
The coast also features several historic 18th Century martello towers.
'Serious problems'
Alex Mann, a farmer at Bawdsey, said: "This is deadly serious for us as we've got prime agricultural land which could be inundated with sea water and get in to our irrigation system and destroy that."
Graham Turner, chairman of Bawdsey Parish Council, said: "In the old days we used to have groynes and what's needed is something like that which would hold the shingle, because it's the shingle that moves away and exposes the sea wall."
The Environment Agency said it would be spending "hundreds of thousands of pounds" on short-term emergency work to move more defensive rocks on to the shore.
Charles Beardall, from the agency, said: "[The gale-force wind and sea] has stripped the shingle away down to the clay and exposed and undermined our sea wall, so we've got serious problems there.
"This is one of the most challenging parts of the East Anglian coast, but I don't know whether groynes would be effective because there's not much shingle moving back and forth.
"The Shoreline Management Plan policy is that we will try and 'hold the line' for the next 50-100 years, but as we can see that is hugely challenging and very costly, so we'll work with our partners and see to see what long-term solution we can come out with."