Suffolk floods: Flooded pub and cinema set to reopen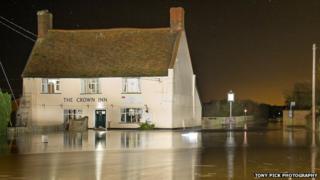 A pub and cinema on the Suffolk coast, which closed after December's flooding, are set to reopen.
The East Coast Cinema in Lowestoft will screen films again from 14 February, while The Crown pub at Snape plans to open its doors on 20 February.
Both businesses had to close after the surge tide overtopped rivers and waterways on 5 December.
The pub had hoped to reopen for St Valentine's Day, but it will not be ready in time.
The Crown estimated the cost of lost kitchen equipment, damage to its cellar and dead livestock was £55,000-£60,000.
Landlady Theresa Cook said: "We were hoping to reopen for meals on 14 February, but it's taken longer than we thought it would and we couldn't risk taking advance bookings and then letting people down."
Meanwhile, the flooded Harbour Inn on the River Blyth at Southwold reopened on 5 February.
Landlord Nick Attfield said: "The building will flood regularly and you can never stop it, it's about dealing with it and minimising losses."
The cinema, on London Road South, had 3ft (1m) of water in its ground floor, which damaged three screens and the foyer.
Michael Hansell, manager of the cinema on London Road South, said: "The biggest surprise is how we've managed to turn it round so quickly.
"It's essentially a new cinema. Our insurance company were very proactive in getting industrial heaters in to dry the place out and the contractors began rebuilding in January."