Ipswich Christchurch Park owl's 'unique behaviour'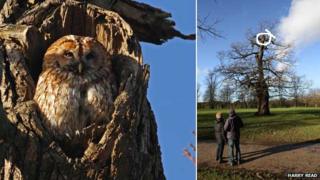 An owl that has become a tourist attraction in a town centre park is displaying "unique behaviour", experts say.
The tawny owl, named Mabel by staff at Christchurch Park in Ipswich, made her home on full view in a tree hollow.
She has proved popular with visitors to the park and appears comfortable near humans.
The Suffolk Owl Sanctuary charity said it was rare for an owl to sit out in the open.
Andy Hulme, manager of the Suffolk Owl Sanctuary at Stonham Aspal, said: "The importance of Mabel is that she's unusually visible - owls usually hide among ivy in the winter rather than sit out in the open.
"Most tawnys are pretty elusive and we are only able to count adults based on hearing their calls rather than by seeing them.
"Mabel has shown unique behaviour in the way she has taken up residence in Christchurch Park."
Rat poison
The park is surrounded by roads and houses which pose a danger to a bird which feeds on carrion at ground level.
Ray Snook, who has written a book about the owl, said: "We're convinced she's here for life now - she's got her territory, food supply and place to lay eggs.
"They do eat roadkill and our fear is she will get run over one day or eat rat poison which is often put down by people in their gardens."
Mabel is believed to have bred in 2012.
The sanctuary said it hoped Mabel would successfully lay eggs in her tree hollow by the end of February as the weather seemed more favourable.