Soldiers help flood-trapped motorists on A1088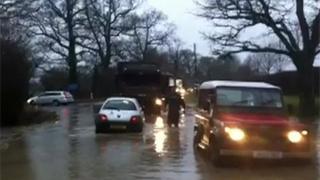 The Army has been helping to rescue motorists in Suffolk whose cars were stranded in flood waters.
Soldiers who happened to be passing by on the A1088 near Tostock and the Woolpit Business Park had equipment to help pull cars out.
Heavy rain during the night had swollen rivers with water collecting on roads around Bury St Edmunds and Haverhill.
Suffolk Fire and Rescue Service said crews had been called out early on Friday to rescue stranded motorists.
A woman and her dog had to be rescued from a car which ended up in a ditch under a bridge, after veering off the A14 at Risby.
Police and the fire service were called at about 07:25 GMT after the car started filling with water.
"The water was up to the steering wheel and the woman was hanging out of the car window when crews arrived," a spokesman for Suffolk Police said.
Drivers should avoid going through water as they were not likely to know how deep it was, the fire service advised.
Rettendon, Clare and Hundon primary schools have been closed due to flooding.
Rest centre has been set up in Halesworth for families affected by flooding.
Gardiners Close near the River Linnet in Bury St Edmunds is affected.
Unprecedented speed
Trevor Bird, who has lived on the street for 31 years, said: "I've never seen it as bad as this. It just came up so quickly.
"It usually takes a slow period before it gets here. We filled sandbags to try to protect properties.
"The water's got into my neighbour's conservatory."
The fire service on scene said the quantity of water was excessive, and there was very little they could do as there was nowhere to pump it to.
"Water is coming off fields straight into river but levels have been dropping," the commander said.