Bungay referendum to be held over roadworks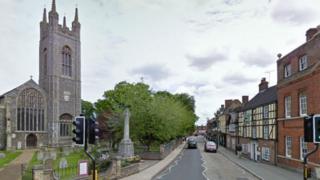 A group of campaigners have forced a council to hold a referendum over a town centre road scheme.
Work has already begun on £440,000 roadworks to create a one-way system and widened footpaths in Bungay, Suffolk.
The Bungay Road Action Group said there was not enough consultation and trade would be lost during the work.
Bungay Town Council and Suffolk County Council said the scheme would improve traffic flows and quality of life.
Forty people at a parish meeting called by the action group voted for a referendum, which means Waveney District Council is obliged to hold one.
It will ask residents if they felt properly informed about the scheme and whether town councillors who voted in favour of it should resign.
'They ploughed on'
Mike Testro, from the action group, said: "The road closures are going to kill the commercial heart of the town and the 'shared space' on St Mary's Street is unsafe with vehicles and pedestrians using the same A-road.
"The work has started, but we had less than a week's notice there would be road closures.
"They could have postponed the works until the referendum had taken place, but they ploughed on anyway."
Waveney District Council said the referendum would cost about £5,000-£6,000 and about 4,500 people would be eligible to take part in the vote, which would be held within a month.
The county council said the roadworks were due to be completed by mid-April and would "transform" the town centre.