New A140 junction in Eye Airfield power plant plans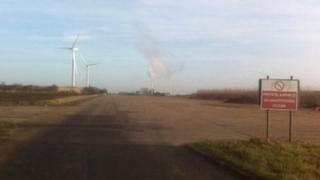 A new junction could be built on the A140 to ease traffic congestion, the developer of a planned power plant has said.
Progress Power wants to build a gas-fired power station at the Eye Airfield industrial estate in Suffolk.
Revised proposals also suggest a plan to run cables to a new sub station underground, rather than using pylons.
But councillor Andrew Stringer, Green Party, said the plans presented new concerns.
Progress Power said the proposal was the result of "extensive public consultation" last year.
The new junction would allay fears of traffic passing through Yaxley, the company said, and the underground cables would connect to a new sub-station on land north of Mellis.
'Not impressed'
Mr Stringer said it was "quite welcoming" that the developer had listened to local concerns, but questioned the revised proposal.
"Yes we've lost some overground cables, but we've also lost a couple of football pitches in terms of the compound size in the middle of some agricultural fields," he said.
He also questioned whether the gas-fired power station matched the ideal of a "low carbon future".
Chris McKerrow, project director for Progress Power, said it was "very clear from the local authorities and the local community that the overhead connection wasn't a very good idea".
"Our plans will include extensive landscaping, including the planting of trees, in order to minimise the visual impact of the electrical connection compound," Mr McKerrow said.
Subject to planning permission, the plant could be operational by 2018.