Super-strength alcohol ban extended to West Suffolk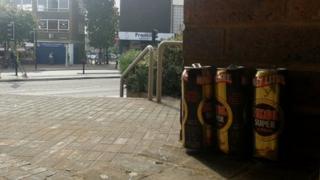 A campaign to stop the sale of super-strength alcohol has been expanded from Ipswich to other parts of Suffolk.
Police said the campaign to remove beer and cider with an alcohol volume above 6.5% from the shelves had successfully cut anti-social behaviour.
Thirty-six off-licences in West Suffolk have so far agreed to join the project.
St Edmundsbury borough councillor Sara Mildmay-White said the drinks were "harmful to the individual" and the "wider community".
"There is only one reason to drink cheap super-strength alcohol and that is to achieve a damaging level of intoxication," the Conservative councillor said.
Suffolk Police said 17 off-licences in Bury St Edmunds had signed up to the campaign, along with nine in Haverhill and a further 10 in villages in the St Edmundsbury borough.
The scheme in Ipswich was launched in September 2012 and police said more than 60% of shops have stopped selling the drinks.
A spokesperson said reports of street drinking in Ipswich had fallen from 341 in September 2011 to September 2012, to 261 the following year.