A14 Orwell Bridge speed limit to be cut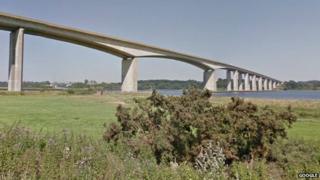 The speed limit on the A14 Orwell Bridge is to be cut to 60mph (97km/h) in an attempt to prevent accidents.
Suffolk's police and crime commissioner Tim Passmore announced the reduction from 70mph (113km/h) following a meeting with the Highways Agency.
Talks began after an accident at the Nacton junction in October closed the bridge and led to four hours of delays in and around Ipswich.
The agency said the new limit should be in place by the end of summer.
The speed limit would begin on the approaches to the bridge and start before the filling station slip road on the westbound carriageway.
Mr Passmore, who has campaigned for the change, said: "As traffic slows down, any collisions will be less severe so they can be cleared more quickly and hopefully it will reduce the number of collisions in the first place.
"There are considerable police resources that go on to the A14 and what we need to do is collectively work together."
The Highways Agency said average speed cameras would be introduced to enforce the new limit in the 2014-15 financial year.