Ipswich council house rent rise 'ripping off the poor', says MP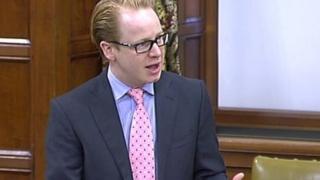 A rise in council housing rent is "ripping off the working poor" of Ipswich, the town's MP has said.
Ipswich Borough council is raising rent for council house tenants by 5.5% in April.
Ben Gummer, Conservative MP for Ipswich, said the increase was "outrageous" and would cost the average tenant £230 a year.
But the Labour-run council said it was following guidelines set by the coalition government.
In a statement, Mr Gummer said: "The council talks about the cost of living and yet at a time when they could have helped those who need it most, they recommend this inflation-busting rise.
"£230 may not be a lot for Labour councillors living in homes that they own but it is a great deal for some of the people they and I represent."
'Future problems'
Councillor John Mowles, portfolio holder for housing, said there were about 8,200 council properties in Ipswich.
He said about a third of the residents were on "full benefits", and therefore unaffected by the rise.
"It's all very well for Mr Gummer to say this is outrageous, but it was even more outrageous when the Conservatives ran the council," Mr Mowles said.
"The last increase they imposed was 6.47%, which was inline with the government figure.
"They come up with a guideline figure, based on the retail price index on a certain date, plus a certain percentage, which is laid down by the government, plus a certain amount in cash terms - £2 a week."
He said the current council had used this formula to get to the 5.5% raise.
"If we were to go against the guideline figure at this moment, it would store up likely problems in the future," he added.