Ipswich Town match played at Kesgrave High School due to waterlogged pitches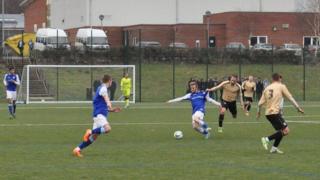 Ipswich Town have played one of their matches at a local school due to problems with water logging at their training ground.
The Under 21s lost 3-0 to Colchester United Under 21s on the artificial pitch at Kesgrave High.
Town's U21s have not played a competitive match at their Playford Road base since 14 January.
Pupils were allowed to watch during their lunch break, but had to leave for afternoon lessons before half-time.
Ipswich Town said the first team's training pitches at Playford Road were in use, but most of the Academy pitches were out of action.
'Good opportunity'
Mark Kennedy, the Ipswich Under 21s manager, said: "Because of the weather, we've had a lot of games cancelled, as have Colchester, so we're just here to give the lads 90 minutes and get some fitness in.
"It's a shame the kids had to go back in to lessons, but we're grateful to the school and the pitch is fantastic."
The match was not open to the public, but some pupils watched until the school bell went.
Sophie Aldous, 16, who plays for AFC Kesgrave, said: "It's a really good opportunity, because you wouldn't expect to see players of this quality here.
"They show you how good they've got and it wants to make you achieve more."
Louis Jinkerson, 16, said: "I'm a season-ticket holder at Portman Road, so it's nice to see who's going to be coming through."
The artificial grass pitch was laid in 2012 using a £306,216 grant from the Football Foundation.
Grant Bolton, business development manager at Kesgrave, said: "We've built up a bit of a rapport between the school and the club and had some training sessions here, culminating in the match today.
"The staff were very excited and the students were very much hoping to gain a few ideas for their own matches."