RSPB Minsmere and Ham Wall energy from reeds project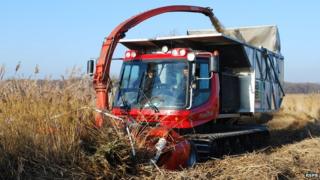 Bird reserves are testing out equipment which enables them to harvest reeds and turn them into fuel, heat or electricity.
RSPB Minsmere in Suffolk, Ham Wall in Somerset and Insh in Inverness-shire are involved in the £2m project.
It is claimed a generating unit could power 30 homes.
Sally Mills, project manager for the RSPB, said: "We're trying to manage our reserves in a sustainable way and the extra income could help us."
The pilot scheme is being funded by the government after the RSPB and other organisations including the Broads Authority and wildlife trusts won a competition to propose ways of creating bio-energy.
A mechanical reed cutter has been hired at Minsmere to harvest reed beds.
When combined with grass and other waste vegetation, briquettes can be produced for use in log burners or boilers.
'Innovative project'
The RSPB is also testing a static anaerobic digestion machine at a farm in Somerset, which burns the vegetation to produce methane gas.
The machine, which is about the size of five shipping containers, then converts the gas to to electricity which could then be sold to the national grid.
Ms Mills said: "We struggle to deal with vegetation and it's often just cut by hand and burnt, so if we have a use for it, we would be able to manage sites more effectively for biodiversity.
"We're looking at creating community schemes which could use waste vegetation created by surrounding land owners."
Greg Barker, government energy and climate change minister, said: "Bio energy is an important part of the UK energy mix which has the potential to reduce UK energy system costs by £42bn by 2050.
"We are committed to helping small businesses to develop and grow and this is exactly the kind of innovative project I want to see."
The funding lasts until March 2015 and the RSPB will then see if the project can pay for itself and whether it would be worth installing anaerobic digestion machines on its reserves.