SLP Engineering in Lowestoft 'confident' of jobs boost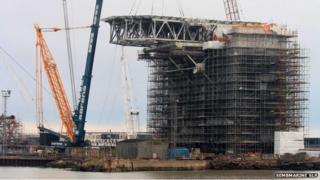 An offshore engineering firm has said it would create about 200 new jobs in Suffolk if it wins new contracts.
Sembmarine SLP in Lowestoft said it was about to hear whether it has been successful in tendering for six oil, gas and renewable energy projects.
The firm employs 400 people at its yard at Lowestoft harbour.
Andrew Thomson, from SLP, said: "I am confident we will get a mix of tenders and would be looking at extending beyond 600 people without doubt."
The number of people employed by SLP has risen from 124 since it was bought by Singapore-based company Sembcorp Marine in 2012.
The firm has since been building a 140-person accommodation module for Nexen Petroleum to use in the North Sea off Scotland.
The structure, which includes canteens, a gymnasium, hospital facilities and a helicopter landing pad is due to be transported by sea from Lowestoft in May.
The new contracts SLP was bidding for included building an electricity sub-station for the wind turbine farms off East Anglia and another "multi-million pound" offshore accommodation module/platform.
SLP said it was hoping to keep working on a mix of renewable energy and oil and gas sector projects and would need labour including welders, electricians and pipe workers.
Mr Thomson, who is SLP's business development manager, said: "We would be mainly recruiting locally and we're confident the skills base is here.
"We are always talking to local colleges to make sure they're training people in the right disciplines."