David Cameron backs MP Tim Yeo's reselection fight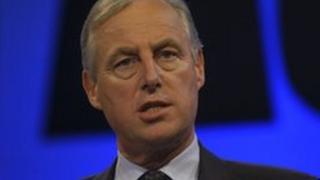 MP Tim Yeo has been given the support of the Prime Minister in his battle to be reselected the Tory candidate for his South Suffolk constituency.
Local Conservative Party members are voting on whether to deselect Mr Yeo.
The local Conservative Association's executive committee voted to "not re-adopt" him as its candidate for the next general election in 2015.
But Mr Yeo challenged the ruling and a vote is being held. David Cameron has written a letter in support of the MP.
In the letter Mr Cameron says Mr Yeo can be "enormously proud" of providing a "strong voice" for the South Suffolk constituency for more than three decades.
'Tenacity and commitment'
He tells Mr Yeo: "I very much hope that you will be selected to stand as the Conservative representative in this seat again, so that you can fight to continue representing your constituents in the next Parliament, as you always have done in the past, with tenacity and commitment.
"Your considerable expertise in rural issues and the environment has been of real benefit to our party and our country."
The ballot of members, which is being overseen by Conservative Central Office, will close on 3 February with the result expected that day.
The local association chose to deselect Mr Yeo not long after the MP was cleared by the Parliamentary Commissioner for Standards of breaking lobbying rules.
Mr Yeo has been MP for South Suffolk since 1983.
Earlier this month, Andrew Sinclair, BBC East's political correspondent, said the move to drop him was due to "frustration" among some senior local party figures who felt he was not devoting enough time to his constituency.
He said: "His local association had hoped he would decide to retire at the next election so that he could make a dignified departure from politics."
Mr Yeo has said he did not want to retire and was therefore challenging the executive committee's decision by requesting the ballot of all members of the local association.