Ipswich Cornhill re-design funding £2.7m short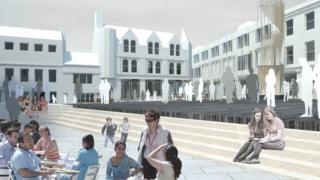 A £3.5m project to re-design Ipswich's town centre main square still needs to secure 75% of its funding.
Last week, a winning scheme was selected for the Cornhill which levelled-off the slope and featured an illuminated tower.
Ipswich Borough Council had already committed to providing £800,000, but no other funding is in place.
The council said it was confident private and public sector funding could be found to reach the target.
The winning design, by architects Hall McKnight, was chosen by Ipswich Borough Council, Suffolk County Council, Ipswich Central, University Campus Suffolk and Ipswich MP Ben Gummer.
'Vested interest'
David Ellesmere, leader of Ipswich Borough Council, said it was hopeful work could begin in 18 months, but there is no timescale on it.
"Obviously there is a way to go to attract the funding as at the moment the borough council is the only organisation to guarantee funding.
"We are working with the county council to get agreement and we're hopeful they will, given that they were part of choosing the winning design.
"We are having talks with Ipswich Central [the business organisation] about getting private sector funding from firms who have a vested interest in the success of the town centre, and I'm confident we will be able to attract money from national or regional funding organisations such as the New Anglia Local Enterprise Partnership."
A Suffolk County Council spokesman said: "We are currently in the process of investing over £20 million in Ipswich town centre which includes works to Princes Street and Queen Street that will support the redesign of the Cornhill.
"We will be considering this request for further investment in the light of all the calls on our resources across Suffolk as a whole."
The borough council said the scheme will require planning permission.