Serco's healthcare in Suffolk 'safe', says review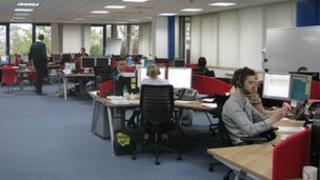 A review of healthcare provided across Suffolk by private firm Serco has found no evidence its services have "resulted in any harm to patients".
Serco took on the £140m three-year contract to run community health services in Suffolk in October 2012.
In November concerns were raised that some response targets were being missed.
A four-month NHS review found services were being provided safely although improvements were needed.
It said staff morale needed to be improved, along with the recruitment and retention of staff. It also said there had to be better communication between Serco, GPs and other health providers.
The Quality Review was conducted by the NHS Ipswich and East Suffolk Clinical Commissioning Group and NHS West Suffolk Clinical Commissioning Group, the GP-led organisations responsible for buying and managing community health services.
Areas for improvement
It also highlighted two unexpected deaths in 2013, and one in 2012. However, the review said unexpected deaths are not necessarily deaths that could be avoided.
In November, the BBC was shown unpublished figures which indicated Serco's community intervention teams were failing to meet urgent four-hour response targets - for nurses and therapists to reach patients at home.
The BBC also heard concerns from some nurses working for Serco that staffing shortages meant some community intervention teams in Suffolk did not have cover at night, resulting in some patients being admitted to hospital.
The review concluded: "The review has found no evidence that the programme of change being implemented by Serco has resulted in any harm to patients."
Dr Imran Qureshi, a GP in Ipswich and chairman of the clinical executive of the NHS Ipswich and East Suffolk CCG, said: "Areas identified as being in need of improvement include staff morale, recruitment and retention; a review of procedures at the Ipswich care co-ordination centre; better communications between Serco, GPs and commissioners and better performance from the community equipment store. "
Abi Tierney, Serco development director, said: "We are deeply committed to the delivery of high-quality patient services that meet the needs of local people so this review is very good news, but the review also highlights some areas for improvement, including the recruitment and retention of good staff, better communication with GPs and health commissioners and better performance from the community equipment store."
Serco runs a range of services including community hospitals in Aldeburgh, Felixstowe, Ipswich and Newmarket; community dental care; children's paediatric speech and language therapy; community children's nursing, and the child and family community clinical psychology team.