Serco: Widower sues health firm over Joy Saunders' death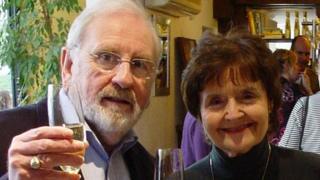 A widower is to take legal action against the operators of the community hospital where his wife was injured in a serious fall.
Joy Saunders, 76, fell from her bed at Bluebird Lodge in Ipswich in November 2012 and died last month.
Her widower David is suing Serco, which operates community healthcare services in Suffolk.
The company, publicly criticised over its performance in the county, said it could not comment on individual cases.
Mrs Saunders, of Ipswich, was admitted to Bluebird Lodge on 27 November 2012.
'Repeated failure'
Ashton KCJ, the law firm acting for Mr Saunders, said he had specifically asked that staff be aware that she might fall out of bed.
The lawyers said this happened just two hours after Mr Saunders left that evening.
Despite being heavily bruised, staff did not realise Mrs Saunders had been hurt, the lawyers said.
She suffered a major brain haemorrhage as a result of her fall.
Serco has been warned it may face fines over its services in Suffolk after NHS commissioners found it was failing to meet key targets.
The firm was also criticised last week by Suffolk County Council over a number of issues, including delays in providing specialist equipment and poor communication.
On Wednesday the council's health scrutiny committee heard that Serco were not meeting some of their key performance targets in community health response times.
Ben Ward, medical negligence specialist at Ashton KCJ, said: "The clinical commissioning groups which awarded Serco the contract have already set out a list of the areas in which Serco were failing.
"One of those areas was concerns over a repeated failure to provide falls assessments for vulnerable patients, exactly the circumstances which applied to Joy Saunders."
An inquest into Mrs Saunders' death was opened and adjourned earlier this month and a full hearing is due to take place at a date to be fixed.
Sharon Colclough, Serco's director of community services, said: "Patient safety is our paramount concern and we take the welfare of our patients very seriously.
"It would be inappropriate for us to comment on the care of an individual patient and any claims are passed to our insurers."
On Tuesday Serco announced it had signed a partnership agreement with Bromley Healthcare, an employee-owned social enterprise.
Both firms said the partnership would improve patient care "while delivering best value for the NHS".
On the issue of specialist equipment, Abi Tierney, Serco's development director, said change was taking longer to implement than anticipated, but that progress was being made.
"We know we need to make improvements, so we will be working closely with Suffolk County Council to improve communication, make it easier to contact equipment stores, resolve any delays, monitor the service and improve working relationships," she said.