Newmarket Home of Horseracing heritage centre work begins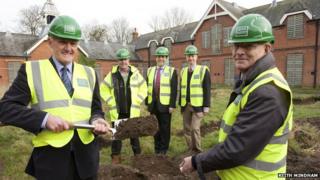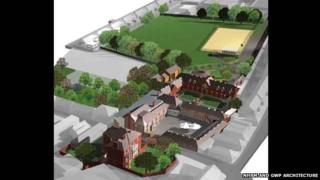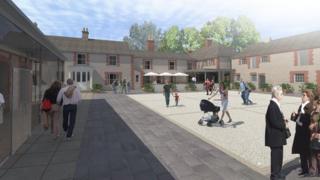 Work has begun to turn a former stables in to a "Home of Horseracing" heritage centre.
Newmarket's National Museum of Horseracing will relocate from the High Street to the Palace House & Stables.
It will become the National Heritage Centre for Horseracing and Sporting Art.
The museum hopes to have the new centre open in 2016 and believe it can attract 40-50,000 visitors a year to the town.
The grade II-listed house is a remnant of the palace built for King Charles II in 1671.
The museum and Forest Heath District Council are behind the project to turn the five acre (two hectare) site in to a site which can provide gallery space for artworks from the existing museum, the British Sporting Art Trust and Tate Britain.
8,000 objects
The derelict Rothschild Yard and paddocks are being restored and will provide a home for the Retraining of Racehorses charity.
A ground-breaking ceremony to mark the beginning of the redevelopment took place in the stable yard.
Peter Jensen, chairman of the Home of Horseracing Trust, said: "After years of fund raising it is wonderful that we are now on our way.
"The actual building work will take a year and then, following the installation of specialist exhibitions and displays, the museum will be moving over 8,000 objects from its present home."
The council bought the site between 1992-94 for £475,000.
Warwick Hirst, Forest Heath cabinet member, said: "The heritage centre has gone from a dream to a drawing and then full-scale project.
"It can only have got so far thanks to terrific support from a huge range of people and organisations who all recognise the importance of Newmarket as the international centre for horseracing."
Funding has come from Forest Heath (£1.3m), Suffolk County Council (£1m), the Heritage Lottery Fund (£4.25m) and private individuals and trusts.
The work is due to be completed by the end of 2015.