Hare coursing: Suffolk illegal incidents down by 30%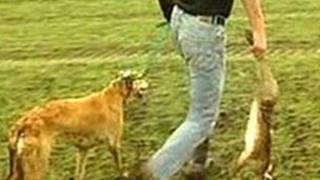 Cases of hare coursing in Suffolk have gone down by a third since an operation to target the illegal activity began last year, police have said.
There were 300 incidents reported from September 2012 to March last year and officers said that figure had gone down this winter.
Suffolk Police joined Operation Galileo in September. It started in Lincolnshire in 2012.
The National Farmers Union (NFU) praised the success of the scheme.
In December, Lincolnshire police said reports of hare coursing in that county were down by 25%.
PC Mark Bryant, who is co-ordinating the operation in Suffolk, said he expected the number of cases to have dropped to 180 by the end of March.
'Badly injured'
"If we can achieve a 30% drop year-on-year I will be delighted," he said.
"Criminals are very police-aware so we have to adjust our tactics to counter what they do.
"Having vehicles confiscated and crushed is the main deterrent - it's an item used in crime so we seize it."
Rachel Carrington, county advisor for the NFU in Suffolk, said: "It's done not to just catch hares, but also for betting and they're trespassing across land when it's often wet and doing a lot of damage.
"There is also evidence of intimidation, with one of our members badly injured in a confrontation when a vehicle was driven at him last year.
"Thirty percent is a good decrease - it's a start and we're hopeful further improvements will be made."