Winning Ipswich Cornhill design announced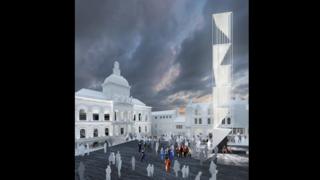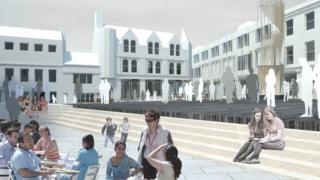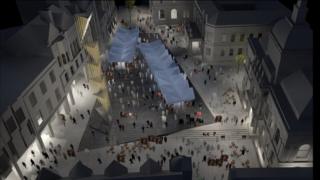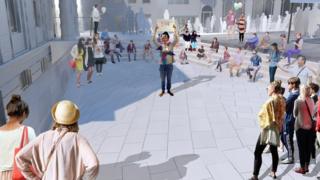 A tower is to be installed in the centre of Ipswich, as part of a new design for the Cornhill.
A design has been selected from five options for the town centre, which was called a "bit shabby" by former Marks & Spencer boss Sir Stuart Rose.
The winning design was chosen by Ipswich Borough Council, Suffolk County Council, Ipswich Central, UCS and Ipswich MP Ben Gummer.
Architect Hall McKnight's plans will cost about £3.5m to implement.
Partner Alastair Hall said the Belfast-based firm was "completely thrilled" to have won the bid.
He said the layout of the Cornhill had posed some challenges.
"There are some very particular qualities, some of these make it very beautiful but one of its key problems is that it's effectively a town square tilted on a slope," Mr Hall said.
One of the issues was accessibility to the Town Hall, which Mr Hall said would be solved by a new level surface in the middle of the Cornhill, which will connect to the landmark building.
'Need to invest'
The new tower will be a "delicate steel and glass object", placed in front of the Town Hall.
"You'll see through it, so it doesn't stand in the way of seeing the buildings behind it," Mr Hall said.
"At night it will transform into an almost Chinese lantern, something quite delicate and illuminating."
David Ellesmere, leader of Ipswich Borough Council, said the new design would "transform the centre of Ipswich".
"The centre has not had any major investment for about 30 years," he said. "Town centres cannot stand still. We need to invest."
Mr Ellesmere said the council would commit to funding a quarter of the cost of the scheme in next year's budget.
He said work could begin, depending on funding, in about 18 months' time.
Ipswich Central said the new design would allay fears that the town centre market could be forced to move elsewhere.
Chairman Terry Baxter said: "There will be a thriving market in the heart of Ipswich town centre, not just a traditional market, there will be artisan markets, specialist craft markets."