Ipswich attack on soldier: Fifth man jailed for robbery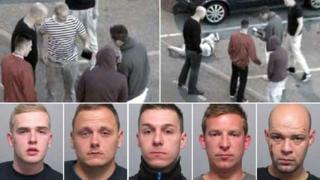 A fifth man has been jailed after a soldier on leave was attacked by a gang of robbers in Ipswich.
The 21-year-old victim was assaulted in Queens Way in the Priory Heath area on 6 June.
Mitchell Ambrose, 20, of Huckleberry Crescent in Ipswich, pleaded guilty to robbery at Ipswich Crown Court and on Tuesday was sentenced to 40 months at a young offenders institution.
Four other men had already been jailed for robbery.
The victim had travelled by taxi with the five men from the town centre to Priory Heath.
When they got out of the car, he was robbed of his mobile phone and wallet then knocked unconscious in an attack that was recorded by CCTV cameras.
'Particularly nasty'
The other four men were sentenced for robbery at Ipswich Crown Court in November.
Adam Poulter, 27, of no fixed abode, was found guilty and jailed for three years and nine months.
Jerran Hart, 22, of Ravenswood Avenue, was also found guilty and jailed for three years and 6 months.
Matthew Kersey, 31, of Campbell Road, admitted robbery and was sentenced to 32 months.
Jamie Duncan, 24, of Damselfly Road, also admitted the offence and was jailed for 30 months.
Det Insp Eamonn Bridger said the sentences reflected the "severity of their actions" that evening.
"This was a particularly nasty unprovoked attack on the victim - a serving soldier on leave who co-operated with the offenders and handed over his property," he said.
"They still felt the need to surround him and assault him, causing him to fall to the ground unconscious.
"They then continued the assault whilst he lay vulnerable on the floor."