Facebook 'admission' killer Barry Estabrook jailed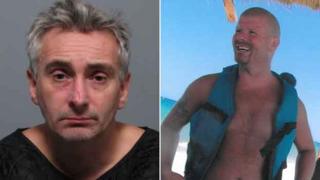 A man who posted on Facebook that he might have killed someone has been jailed for at least 20 years for murdering a man in a Suffolk village.
Brian Knock, 38, was found in a garden at Brooksfield, Bildeston, on 1 September.
Barry Estabrook, 44, of Homefield, Boxford, Suffolk, admitted murder at Ipswich Crown Court.
Judge David Goodin jailed Estabrook for life, ordering him to serve at least 20 years.
The court heard both men had been drinking separately in the Red Lion pub in the village.
Mr Knock walked to a relative's house where he was staying while Estabrook got a lift home.
The court heard the two men came together outside the house where Mr Knock was staying, resulting in Mr Knock being stabbed a number of times.
Crashed into hedge
Estabrook returned home where he posted on Facebook that he may have killed someone and contacted his sister, making similar admissions.
Members of Estabrook's family arrived at the scene, and Mr Knock's body was found.
The ambulance service and police were called, but Mr Knock was pronounced dead at about 05:00 BST.
Police followed a car that left the area with no lights on. It crashed shortly afterwards into a hedge on Wattisham Road, Bildeston.
Estabrook was found hiding in a ditch and as there were concerns that he may have been carrying a knife, officers used a stun gun before arresting him on suspicion of murder.
'Particularly brutal attack'
A post-mortem examination confirmed that Mr Knock died as a result of multiple stab wounds. Twenty- one stab wounds were found on his chest, neck and arm.
Shards of a knife coating were found on his body, and these matched a kitchen knife found in a washing machine at Estabrook's home, along with Estabrook's clothes and mobile phone.
All had been through a wash cycle. Police also found a shirt with Mr Knock's blood on it.
Det Insp Kevin Hayward from the joint Norfolk and Suffolk major investigation team, said: "This was a particularly brutal attack where a defenceless man, Brian Knock, sustained horrendous fatal injuries.
"For the sake of Brian Knock's family, I am pleased that Estabrook entered a guilty plea and admitted his guilt in respect of the murder of Brian."
He said he hoped the sentence would bring "closure" for Mr Knock's family, and thanked villagers in Bildeston for their help and support.