Simpsons Toy Shop in Stowmarket closes after 100 years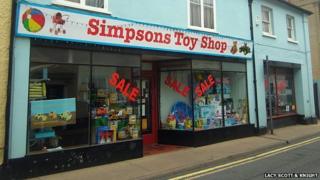 A toy shop staffed by the same family for six generations is to close for the last time after more than 100 years.
Simpsons Toy Shop in Stowmarket, Suffolk, was due to shut on Christmas Eve but has continued to trade to clear its remaining stock.
Sarah Seaman, daughter of 73-year-old shop owner Ernest Baker, said: "It's the end of an era, it's very sad."
She added: "Dad will close the door, it's going to be horrible." The shop will shut for good at 17:00 GMT.
Five staff have already been made redundant.
Mr Baker's wife, Coral, was the last of the Simpson line. Her great-grandfather opened the shop in the 1890s.
Mrs Baker ran the shop until her death in 1998, when her husband, a farmer, took over the business.
Philip Baker, Ernest Baker's son, who has been managing the shop, added: "We're just going to trade as normal on Saturday and then shut up shop at five.
"You hear customers saying 'You just can't do it, you've been in the town so long', but I just have to explain times are changing."
Competition from large supermarkets and the growth in internet shopping have played a major role in the toy shop's demise, said the family.
Mrs Seaman said: "I personally don't want to be in the shop on Saturday as I'll be so upset.
"We were going to close at Christmas but we had some stock left so it was a good excuse to stay open just that little bit longer, none of us wanted it to close."
More than 1,000 people have liked a Facebook page created by customers to try and save the business.
"We can't simply move the business into the town because here we own the property, whereas in the town the rent and business rates would be far too expensive - so it would have no benefit to move the shop there," said Mrs Seaman.
"My son, myself, mum, granddad, his father and his father's father have all worked in the shop - that's six generations of our family - it's a lot to say goodbye to."