Suffolk Police exit leaves Ipswich Borough Council with bill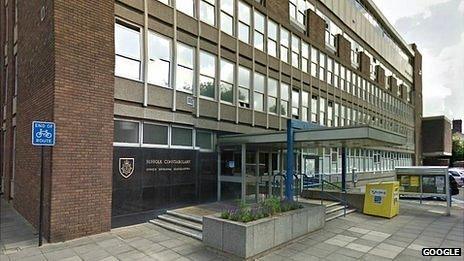 Suffolk Police's exit from its central Ipswich station has left the borough council with a bill of hundreds of thousands of pounds.
The force has completed the £600,000 purchase of a building in Museum Street, which will house staff currently at the Elm Street station.
But a decades-old agreement means the council will now have to buy the vacated station at its current value.
It said the cost would be determined by the independent district valuer.
The force opted to move to the new 19th Century, Grade II-listed building, because its Elm Street building needed "significant investment in maintenance", Suffolk's Police and Crime Commissioner Tim Passmore said.
Eighty-five people will work at the Museum Street site, which was most recently leased by the county council and Suffolk Police to run its Safety Camera Partnership.
Ipswich Borough Council confirmed it had an obligation to take back the station, but declined to comment further about the purchase.
Mr Passmore said: "Under some strange arrangement, I think it goes back to the 1960s, for some reason, when the police station is vacated the deal is it gets handed back to the borough council and they have to pay the market valuation for it.
"We've just got to have it valued, but previous valuations would indicate the value is considerably more than £600,000.
"A lot of people have moved from the Elm Street/Civic Drive site up to Landmark House, but this [Museum Street site] is for the local policing that we need for the town centre."
Mr Passmore said it was hoped the force would be in the building by June.
The borough council said it had already considered buying the former crown court building next to the Elm Street station, but did not state its possible intentions for the site or whether it would be combined with the police office.
Related Internet Links
The BBC is not responsible for the content of external sites.