Bury St Edmunds secures Magna Carta loan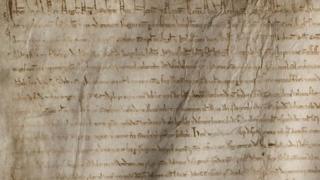 A copy of the Magna Carta will be displayed in Bury St Edmunds as part of celebrations marking the town's connection with the charter of rights.
It was sealed in Surrey in 1215, but barons are said to have met in Suffolk a year earlier to discuss how they could get King John to put his name to what became known as the Magna Carta.
An original copy of the charter will go on display at St Edmundsbury Cathedral.
A "spectacular sound and light event" will also be held in October.
The Magna Carta was the first formal document stating that a king had to follow the laws of the land.
It paved the way for trial by jury and guaranteed the civil rights of the individual.
The Bury Society said the celebrations and loan of the copy of the Magna Carta had been made possible by an £86,400 grant from the Heritage Lottery Fund.
Margaret Charlesworth, chairman of the Magna Carta 800 committee, said she was "determined to celebrate the crucial role that Bury St Edmunds played in the Magna Carta story in the year before it was sealed".
"The motto of Bury St Edmunds is 'shrine of a king, cradle of the law', which reflects the pivotal role this town has played over the years," she said.
"Now, thanks to the Heritage Lottery Fund, we will bring that story alive for people of all ages."
The copy of the Magna Carta will come from Lincoln Cathedral.
Robyn Llewellyn, Heritage Lottery Fund, said: "We at HLF are delighted to support this project that will offer residents of Bury St Edmunds the very rare opportunity to view the Magna Carta, whilst also exploring the town's somewhat unknown connection to this important historical event."