Lowestoft Tramway: Tesco extension set for approval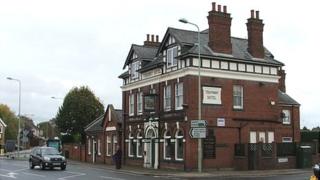 A Tesco takeover of a pub which met with objections by campaigners is now likely to include extensions to the building.
The supermarket has already been given permission to convert the Tramway Hotel in Pakefield, Lowestoft, into a shop.
It has now applied to build in the beer garden and at the back of an existing extension to make the shop larger.
Waveney District Council's planning committee has been recommended to approve the plan.
The report to the council states Tesco's plans for the pub received strong opposition, with 208 people writing to complain that it would draw trade away from the town centre, cause traffic problems, harm the area's character and destroy the historic interior.
The authority also received a 2,500-signature petition calling on it to refuse permission, with campaigners also arguing the pub's guest rooms should have forced Tesco to apply for a change of use.
The council sought legal advice and concluded the supermarket did not require this permission and the development could go ahead.
The report says the pub is not listed and is not in a conservation area, and the extensions would be in keeping with the building.
"Objectors have raised many concerns over issues which may arise from the change of use," the report adds.
"As the change of use is not part of the application and does not require planning permission they are not material considerations for this planning application.
"The building is not listed and therefore the interior is not protected."