Felixstowe promenade sand clean-up hampered by storms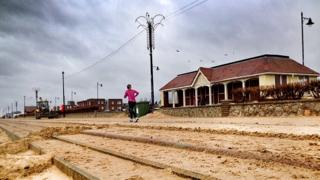 Diggers have been brought in to help clear a promenade after sand and shingle were washed up in the tidal storm surge earlier this month.
Efforts to clear Felixstowe's seafront have been hampered by more recent gale-force winds which have blown more sand on to the 1.5 mile (2.4km) promenade.
Diggers will create a 2m (6.6ft) wide path to allow easier public access over the New Year period, the council said.
It could take months to return beach levels to normal, a spokesman added.
With high winds forecast this week and continuing periodically next week it is likely there could be further disruption, Suffolk Coastal District Council said.
Councillor Andy Smith said the longer term plans of "reinstating the right beach levels and minimising this new problem of wind-blown sand" will need a "multi-agency agreement" to ensure "we get the right result for the resort, residents, businesses and users alike".
He added: "Whilst we are reporting that it is business as usual in Felixstowe we need to ensure that the long-term solution demonstrates value for money to the public purse."
The council said the sand will, as far as possible, be placed back on to the beach in those areas where the level has dropped significantly.