Luke Durbin: Two arrested over suspected online fraud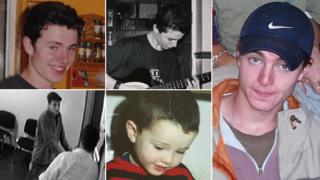 Two people were arrested on suspicion of attempting to use the identity of a man missing since 2006 to buy goods online, police have revealed.
Luke Durbin, 19, went missing in May 2006 after a night out in Ipswich.
In August 2011, a man and woman in the Brixton area of London were arrested by police investigating reports that Mr Durbin's details had been used for online shopping.
The man, 29, and woman, 24, were questioned but later released.
Suffolk Police said they were "arrested on suspicion of attempting to commit fraudulent acts by misrepresentation".
A spokesperson said: "The pair were questioned but due to insufficient evidence they were released with no further action."
Police released the information about the arrests to the BBC after revealing in November that Mr Durbin's identity had been used in a "computer-related fraud".
The last confirmed sighting of Mr Durbin was in Dog's Head Street in Ipswich at 04:00 BST on 12 May 2006.
Police said CCTV images of him at the railway station, a taxi rank and crossing the road towards the Cattle Market bus station suggested he was trying to get back to his home in Hollesley.
Two men, aged 26 and 41, were arrested earlier this year as part of the murder investigation, but later released.