Snowboarder Emily Watts: Good Story charity raises £50,000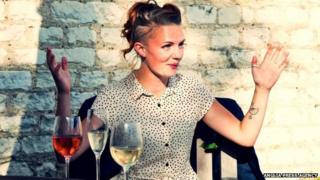 A charity begun by the family of a 26-year-old snowboarder from Suffolk who died in France a year ago has raised £50,000 in its first year.
Emily Watts, known as Mimi, and from Lavenham, crashed into a snowdrift and suffered a heart attack near Chamonix on 8 December 2012.
She died in hospital five days later. She had been due to begin a masters degree in design.
Her family said the Good Story charity was there to help young entrepreneurs.
Good Story was the name Ms Watt, a talented designer, had chosen for her own label.
"We're a little like a mini version of the Prince's Trust," said her mother, Nicky McAllister.
"We always want to keep on top of our applicants. We want to get to know them personally to be able to really help them in a hands-on way."
Otis Luxton, from Orford, makes musical instruments and was given a loan by the charity to buy equipment and also offered advice from a mentor.
"I'm not a businessman," he said.
"I needed some essential help just to get to grips with business."
Ms Watt's stepfather, Malcolm McAllister, said applicants to the charity had to have a creative idea.
"We don't support somebody who just buys and sells - they have to make something or add value to something," he said.
The charity has more than 60 mentors it can call on and has so far offered support to about half the number of people who have applied with ideas.
It is run by six trustees, three of whom were Ms Watt's best friends.