Jean Kent: Funeral held for Suffolk Gainsborough film star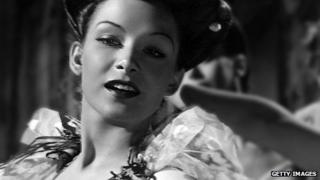 The funeral of Jean Kent, one of Britain's biggest stars in the 1940s and 1950s, has taken place in Suffolk.
Ms Kent, 92, died at the West Suffolk Hospital, Bury St Edmunds, in November after a fall at her home in Westhorpe.
About 70 people attended the service at St Margaret's Church in the village. It featured tributes from celebrities David Jason and Penelope Keith.
The funeral was postponed from early December to allow time for a post-mortem examination to be carried out.
After investigations, Suffolk Police said it was not treating her death as suspicious.
A 'good life'
Ms Kent was buried in the churchyard next to her husband, Austrian-born actor and property developer Jusuf Ramart Hurst, who died in 1989.
Audrey Thomas, former chairman of Westhorpe Parish Council, said the star was "a lovely lady, very friendly, unassuming and a true character" who had "a very good life".
Her career included regular appearances in Gainsborough melodramas, which were popular with large numbers of newly-independent women following the outbreak of World War Two.
She made 45 films and during her career starred alongside Marilyn Monroe, Michael Redgrave and Laurence Olivier.
Her post-war television shows included Up Pompeii!, Crossroads and Lovejoy.
Ms Kent's last public appearance was in June 2011 when she was honoured by the British Film Institute on her 90th birthday.