Badwell Ash Primary School closed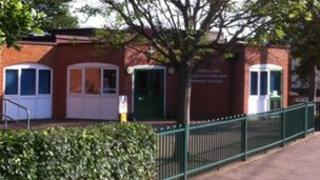 A Suffolk school with 23 pupils has closed for good after being put in special measures in October.
Some parents of pupils at Badwell Ash Primary near Stowmarket fought to keep it open since closure was suggested by Suffolk County Council in May.
Following a poor Ofsted report, the council said pupils were being moved to other schools.
But parents have claimed they have not been able to get their children in to their preferred alternative school.
Helen Flack said: "We fought as hard as we could and unfortunately we've had to come to terms with it."
Julie Evans, another parent, said: "When were told in May that the school was earmarked for closure, the governors always said they would keep the school open and the worst scenario was shutting it.
"In November, we were told the children would be getting places at our preferred other local schools and that has not happened."
The council said Badwell Ash's governing body was acting on instructions from Ofsted to find places at other schools for the 23 children who are aged between four and nine-years-old.
Phil Whiffing, assistant director for school organisation at the council, said: "The school has been struggling for several years and we've tried various ways of getting support for it - none of which have been sustainable.
"I'm not talking about financial viability, I'm talking about the quality of the education."